The family story of Maria Karamolegos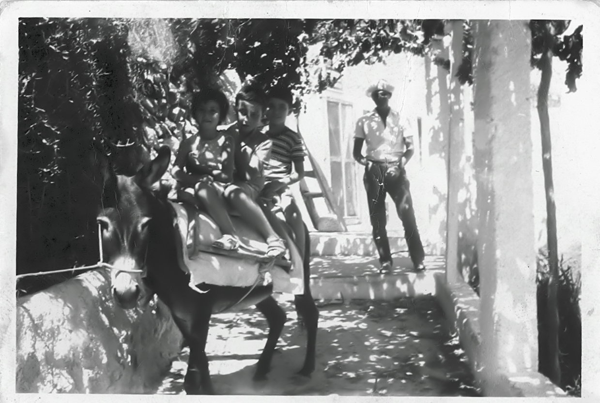 In the early 50's, Elias Karamolegos marries Ekaterini Zorzou, at the small village of Exo Gonia, in Santorini and together they decide to open a bakery; building on the knowledge, experience and recipes of Ekaterini's grandfather Gerge Zorzos.
Their two children Manolis and Maria grow up helping their parents at the bakery while at the same time experiencing the mystagogue of learning the magical world of dough making and the creation of unique tastes based on the traditions of the island.
Maria, a small girl, relished watching her mother kneading, enriching the dough with flavours and aromatic herbs and forming them into small cookies.
"I was entranced by the fact that my mother literally transformed the most simple ingredients found in our kitchen to the most palatable and aromatic cookies I have ever tasted until today".
In 1956 Santorini was struck by a devastating earthquake of 7.5 Richter during which 53 people were killed, 100 were seriously injured and hundreds of homes were destroyed. It was a smashing blow for the whole island. A few years later most of the islanders started deserting the island in search for a better life in Athens.
The Karamolegos family was forced to follow the example of their compatriots since their village in just a few years had become desolated. So the family moves to Athens and settles
in the suburb of Agia Paraskevi along with some other relatives. Knowing only the art of kneading and bread making, they make a fresh start, by opening a bakery. After school the children, Maria and Manolis actually live in and grow, along with the bakery's production.
"People can always discern the best and when this is delivered with love and care" Maria says, a strong embedded belief upon which she has founded the production of her cookies.
By 1984 the bakery has grown into a state-of the art industry in the industrial zone of Athens and still growing. For many years she worked alongside her brother and managed
to create one of the leading baking industries in Greece, yet she never forgot her great love for cookie making and their special tastes.
That was the main reason that made her turn back to this production and focus on one and only purpose. To produce home-made style cookies, with no preservatives and promote
them to the market so that their aromas fill each and every house in the world.