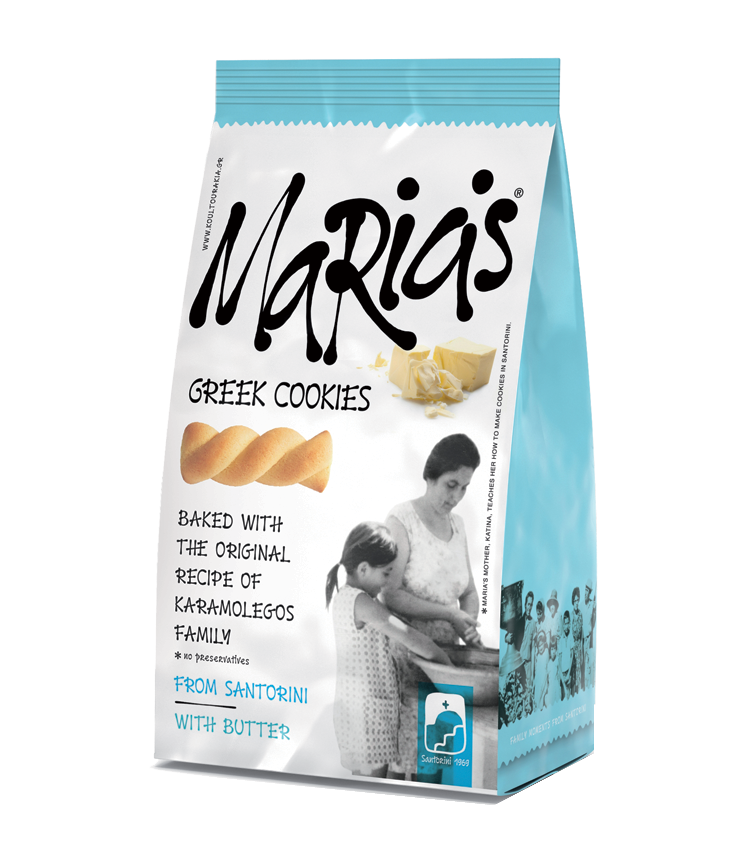 Butter flavor… pure and creamy as the buttercups that fill the hills(like the morning sea!)


Wheat flour, Sugar, Whole Egg, Butter concentrated (12%), Margarine (fat blend: vegetable fats and vegetable oils (non and partially hydrogenated), water, emulsifiers: polyglycerol esters of fatty acids, mono-and diglygerides of fatty acids, lecithins (soybeans), salt, acid:citric acid, flavouring, colour: beta-carotene), Vegetable oil, Raising agent: baking powder (sodium bicarbonate, disodium acid pyrophosphate), Salt.

CONTAINS GLUTEN. May contain traces of milk,
sesame seeds and other nuts.
Greek Product
Serving
Size:

3 items of koulourakia or 16,8 g  (0,593 oz)

 

Serving
Size:

100g

Calories:

69.2

 

Calories:

412

Calories
from Fat:

25.2

 

Calories
from Fat:

150

Serving
Size:

3 items of koulourakia or 16.8 g  (0.593 oz)

 

Serving
Size:

100g

 

 

%Daily
Value

 

%Daily
Value

Total
Fat:

2.86g

4.4%

17,02g

26.2%


Saturated Fat:

1.34g

6.4%

8g

38.1%

Cholesterol:

7.9mg

2.7%

47mg

16.1%

Sodium:

8.1mg

0.34%

48.2mg

2.02%

Total
Carbohydrate:

10.1g

3.4%

60.1g

20.2%


Dietary Fiber:

0.17 g

0.67%

1.01g

4.0%


Sugars:

3.53g

 

21g

 

Protein:

1g

 

4.76g

 

 

 

 

 

 

Vitamin A:

1.68%

 

10.0%

 

Vitamin C:

0%

 

0%

 

Calcium:

0.67%

 

4.0%

 

Iron:

0.67%

 

4.0%

 

Package's dimensions H:20cm x L:11.5cm x W:7cm

Package's net weight: 180g

Box's dimensions L:42cm x W:32cm x H:24.5cm

Box's net weight: 14x180g = 2520g

Box's gross weight: 3008g

Box's capacity: 14 packages

Storage Conditions:
Store product in a dry and clean place away from light and odors under the follow conditions
Temperature: max 25° C and Humidity: max 65%

Delivery Conditions
The temperature at the delivery must be between 16-25 οC and relative
humidity < 65%.

Shelf life
12 months from production date